I would like to get my hands on a copy of this novel about Nikola Tesla.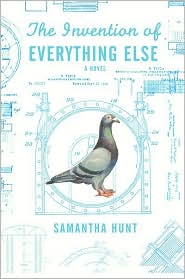 Tesla was obsessed with pigeons, ordering special seeds for the pigeons he fed in Central Park and even bringing some into his hotel room with him.

Tesla lived the last ten years of his life in a two-room suite on the 33rd floor of the Hotel New Yorker, room 3327. There, near the end of his life, when Tesla was slipping into what many consider an altered state of mind, he would claim to be visited by a specific white pigeon daily. Several biographers note that Tesla viewed the death of the pigeon as a "final blow" to himself and his work.
He died in his suite on the 33rd floor of the New Yorker Hotel in 1943. True story: I lived on the 29th floor of the New Yorker Hotel from 2003 to 2004. I also loved pigeons.
An Interview with the Author